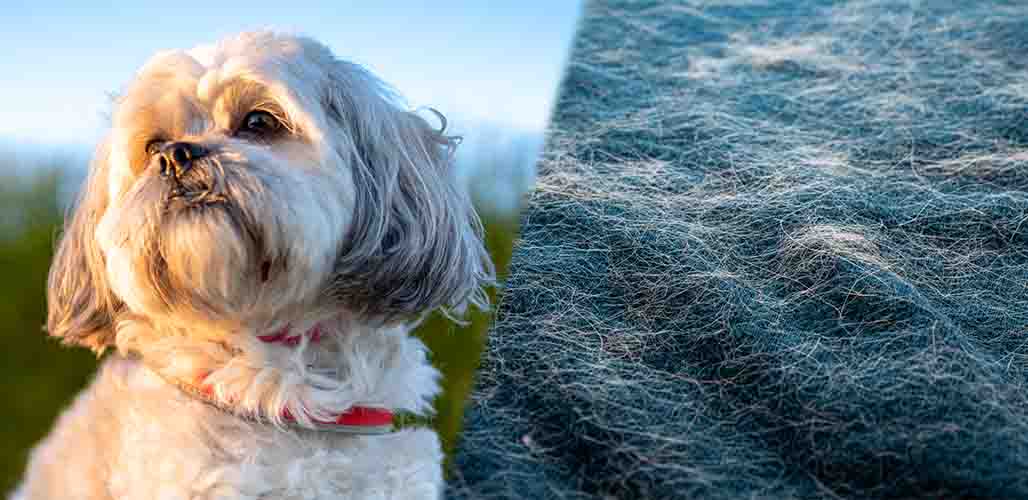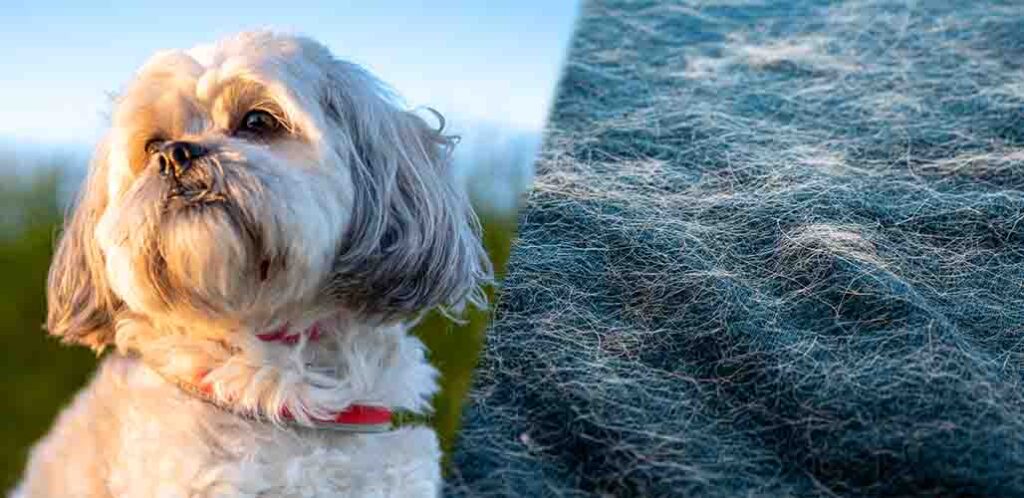 Do Shih Tzu shed a lot, a little or not at all? With that long, luxurious, silky coat, you might think that the Shih Tzu is a heavy shedding dog breed. But the Shih Tzu is a relatively low shedding dog compared to many other breeds. Of course, all dogs shed to some degree, no matter what the breed, so there's no such thing as a non-shedding dog, but some breeds do shed more than others. How can a dog with such a naturally long coat be a minimal shedder? The Shih Tzu's secret is that the breed has what's known as a "hair" coat rather than a "fur" coat. Today we'll take a look at the shedding rate of different coat types, and how you can help stay on top of your dog's loose fur. Despite being a low shedder, regular grooming, bathing and careful clipping can still help your dog to feel their best.
Contents
There are several different popular Shih Tzu haircuts, including the puppy, summer and lion cuts. We'll also take a look at how each of those impacts on their shedding rate, and which might be best suited to your home.
Do Shih Tzu Shed Their Fur Coat?
Professional groomers and other dog experts often refer to hair-type coats and fur-type coats when talking about the different dog coat varieties. A fur coat is generally short, thick, and has more than 1 layer (guard hairs, topcoat, under coat). Dogs with this kind of coat can shed more and have more dander than dogs with hair coats.
Breeds known for their thick fur coats include the Siberian Husky and the Golden and Labrador Retrievers. A hair coat is generally smooth, long, and finely textured. Contrary to popular belief, dogs with hair coats are not hypoallergenic. There's no such thing as a 100% guaranteed hypoallergenic dog. However, dogs with hair coats tend to shed less and have less dander than dogs with fur coats.
Why? They have fewer hairs per square inch than dogs with thick, multi-layer coats. And because hair coats tend to grow longer than fur coats, they have longer hair growth cycles which means less shedding. Breeds like the Shih Tzu and Yorkshire Terrier have straight hair coats; the Poodle has a curly hair coat.
Shih Tzu Coat Types
What are the defining characteristics of the Shih Tzu coat? The Shih Tzu has a dense, long, and flowing double coat. It can be straight or slightly wavy.
A Shih Tzu's coat will naturally grow very long if left untrimmed. When exhibited at dog shows, you'll see a classic Shih Tzu coat that cascades down to the floor, with the hair on the head pulled up into a topknot.
A show dog's coat can be minimally trimmed for neatness (known as a breed clip) but otherwise it stays long. This long coat requires a lot of regular grooming to keep it clean and tangle free. Many Shih Tzu owners prefer to keep their dogs' hair trimmed in a more manageable and lower maintenance haircut.
Shih Tzu Haircut Styles
A common haircut for the Shih Tzu is called the "puppy" cut. The puppy cut is a popular trimming style for longhaired dogs that leaves the coat one uniformly short length, about 1-2 inches. You'll also see some Shih Tzu in "summer" cuts, where the hair is trimmed down to less than 1 inch. A "lion" cut is short like a summer cut but the hair on the face, ears, and head is left a little longer.
The cute and trendy "teddy bear" cut leaves the hair a little bit longer and fluffier, 2-2 ½ inches on the body and around 4 inches on the face. Some owners who trim their dogs still like the distinctive Shih Tzu topknot, so they will leave the hair on the top of the head long enough to pull it up with cute ribbons and bows.
Shih Tzu Haircut Video
Do Shih Tzu Shed Constantly?
Whether your Shih Tzu is in full show coat or clipped short, you can expect some minor shedding throughout the year, which is normal. All mammals naturally lose a bit of hair each day, including humans. Some dogs with fur coats will experience heavy shedding seasonally, as they lose a lot of their thick undercoat when the weather turns warmer.
Do Shih Tzu Shed Seasonally?
You may notice some seasonal shedding, but it will much lighter than the heavy seasonal shedding common to many other breeds. A Shih Tzu that sheds a lot or that has bald patches may have underlying health issues that need to be addressed.
The most common causes of excessive shedding are skin allergies, infections, and parasites. Stress and poor nutrition can also lead to abnormal shedding. As with other dog breeds, Shih Tzu puppies will also lose their soft puppy coats and grow in their adult coats before they are a year old.
Shih Tzu Grooming Tips
You can minimize shedding by keeping your Shih Tzu's skin and coat clean and healthy. This applies to dogs in their full coats as well as ones that are trimmed. A Shih Tzu in a full coat will require daily brushing and combing, as well as a bath every 3-4 weeks. Use a good quality pin brush for the body and a comb for hair around the face.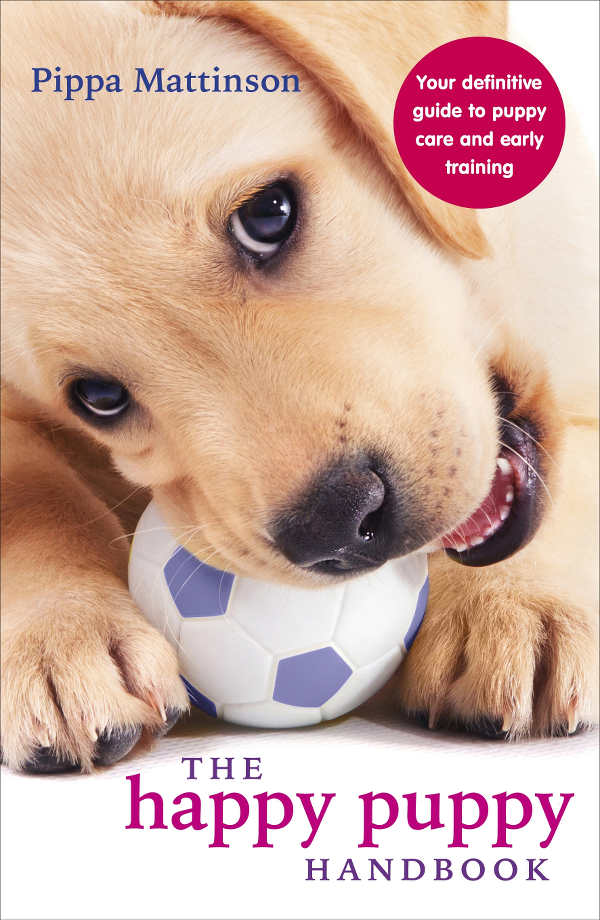 Full coats will need to be trimmed as well. A Shih Tzu with a show coat can benefit from a little trimming on the feet, rear end, and the ends of the hairs that reach the floor. As we mentioned, many Shih Tzu owners prefer the convenience of a low maintenance haircut. You can bring your dog to a groomer or trim it at home.
Bathing and Brushing Clipped Shih Tzu Dogs
Bathing and brushing are still important to keep your dog clean and to minimize shedding. It's also essential to clean your dog's face, especially around the eyes. How often should you groom your Shih Tzu? The answer depends on your individual dog's lifestyle and needs, and how short you choose to clip the coat.
A very short, summer-type cut can last up to 3 months, but if you choose to leave your dog's coat longer than an inch, a once per month trim may be needed to prevent mats and tangles. While the Shih Tzu is a low shedder, regular grooming can keep your little one looking and feeling good.
Learn More About Shih Tzu Dogs
References
Bishop-Jenkins, J. Fur vs Hair. Groomer to Groomer, 2021.
What is a Puppy Cut? Portland Animal Clinic.
All About Shedding: Is My Pet Shedding Too Much? Willowbrook Veterinary Clinic.
How Often Should I Groom My Pet? Old Farm Veterinary Hospital.